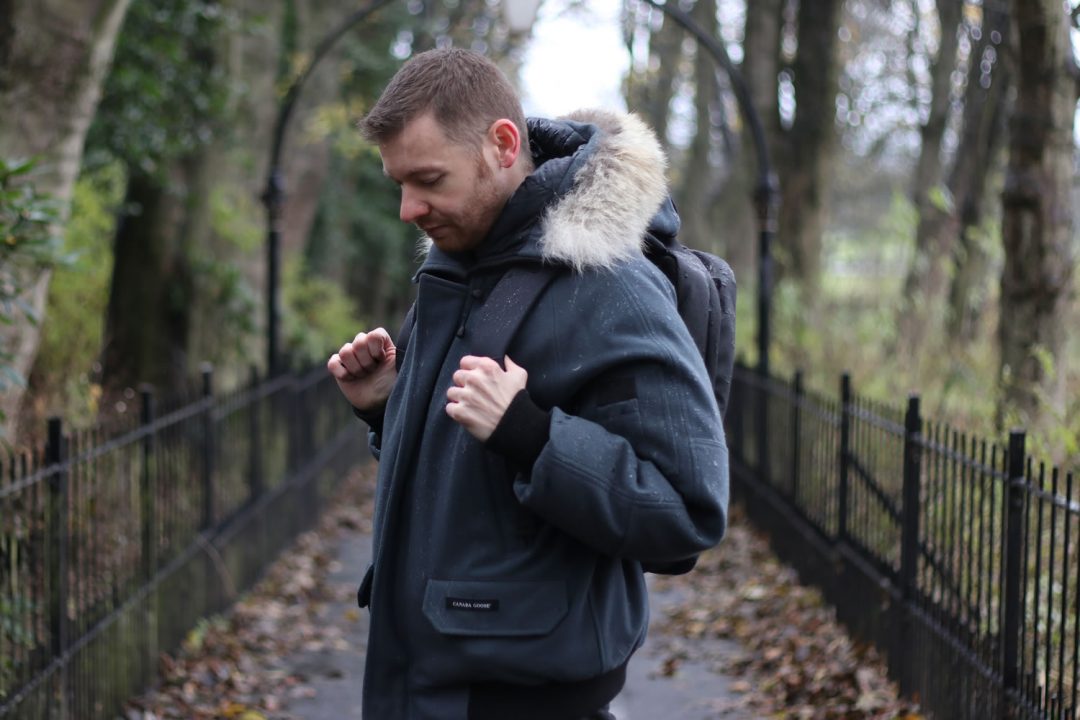 Winter is most definitely here!
It's that time of the year again. It's getting very cold, and you need a winter coat.
If you're looking for a new coat to wear outdoors in the British winter, you'll want to make a good investment.
It's all about getting the right coat to last.
You'll be able to wear this throughout the year, from October until March, and who knows, maybe longer. Getting the right coat can also last you years, so making the right investment can pay off in the long run.
The UK may not be the coldest place in the world, but knowing that doesn't warm you up on a cold winter night.
With that said, investing in a good jacket is worth it. You'll be getting much better quality which will be noticeable when you wear it, as well as it lasting longer than a cheap and cheerful coat.
A good winter coat is a sound investment. You might have to pay a little extra for a good jacket, but as long as you get the right one it should last for several winters.
My winter coat and jacket collection has grown over the past few years. I have quite a few of the bases covered with quite a large selection. This includes my Pull and Bear Parka, Barbour Chelsea Quilted Jacket, Adrian Hammond padded jacket and of course the daddy of them all, my Canada Goose.
For the smarter occasions, I have a couple of overcoats too. They make a great coat for when you need to get dressed up and stay smart.
Different Types Of Winter Coats
They are a key piece of winter fashion. Here are the best winter coats and jackets you can buy this year. All budgets are covered, and here you'll find the warmest outerwear you'll find for the cold season we're in.
Shearling Fleece Jackets
One of the most on trend jackets to buy right now are shearling jackets. They're great for Winter, look warm and you can layer them with your wardrobe.
The Patagonia Retro Pile Fleece jacket is as warm as it looks. Patagonia is a brand known for it's sustainability, so makes a great investment coat for this winter and years to come.
Available in a few colours, I've picked out new navy that's a mainstay in everyone's wardrobe.
It has 3 front zipped pockets with pull tabs, with the coat trimmed in navy blue which really looks the part.
It comes in at £140. Get it here.
Quilted Jackets
Quilted jackets usually have a diamond or squared pattern to them, and they are usually quite light. They are made of polyester and will keep you warm enough providing it's not freezing cold, and your other layers under your coat are substantial enough.
Be careful when buying a quilted jacket, as you can get some paper-thin ones which are usually at the cheaper end of the market.
Unfortunately it can be hard to tell by simply looking.
I would advise going and trying out a couple of brands in a store to check out the quality and see what you get for your money.
Out of all the jacket types they are not the warmest, but they are one of the smartest, stylish and most versatile.
The biggest plus point about a quilted jacket for the winter is that they are smart. You can wear them to work, out to lunch, around the city or on a night out.
A good stylish quilted jacket will never look out of place.
Layer a quilted jacket with a jumper or knitwear and you'll be set for a cold day or evening.
The Best Quilted Jackets
I have picked out the Barbour Powell quilted jacket as one to go for. It's a sleek minimal design, which can be styled with almost anything.
Plenty of pockets for storage, and the funnel style neck will keep you warm.
This comes in at £169 here.
Another option is this quilted jacket from Ted Baker. I really like that the quilted pattern is square patterns rather than the usual diamond shapes which are common.
It's plain navy and understated, so will forever be stylish.
£195 here.
Parkas
For me, the best choice of a winter coat is a good parka. They are some of the warmest jackets you can wear in the winter, and are really easy to wear.
Parkas are usually that little bit longer and can come with faux-fur (or in some cases real fur) hoods. They are good for the winter, and stand up to cold, harsh weather well.
Typically they're waterproof or resistant, so whether you're faced with snow, rain, wind or all three, you should be in good shape with a parka.
There are some very expensive options at the higher end of the market, with some more reasonable priced offerings at the other end.
Brands like The North Face, Canada Goose and Woolrich offer protection against the coldest weather and have really strong brand qualities.
The Best Parka Jackets For Winter
I have to start with probably the best. I own one, and the Chilliwack bomber jacket from Canada Goose is one of the best.
If you're looking to spend a lot of money and want something which will last you for a long time, this is the one.
It's heavy, thick and will keep you warm in virtually any conditions.
Very practical, a coyote fur hood and plenty of pockets. They are expensive, and it comes in at £1,195 here.
The North Face is another reputable brand for offering very good winter coats which will keep you warm.
The McMurdo jacket is waterproof and filled with down to keep you warm in the coldest temperatures.
A good choice if you want to spend £450. You can get it here.
If you don't want to spend a lot of money but still need a parka for the winter this year, I've found this option from French Connection. At only £40 you can't grumble.
You can get it in this khaki green colour, a nice neutral colour that will also stand up to the harsh winter weather well.
It comes with a faux fur hood, and all the practicality you'd expect to find in a parka. Get it for £40 here.
Padded & Puffer Jackets
Padded jackets, puffer, down filled, whatever the term you use to describe them. Padded jackets are quite a popular choice for a winter jacket.
They're light, often made of nylon & waterproof and come in bomber, mid or longer lengths.
One of their big selling points is that there is a wide range available in terms of price, as well as an abundance of different styles and colours.
You can get super light weight bomber lengths from the high street brands, or get something more substantial from luxe-fashion labels.
There's a large choice in padded jackets. The advice would be, as with quilted jackets, to test drive a few before you buy.
Usually with a padded jacket you get what you pay for, and of course getting a higher end label will result in a higher price tag. But it's not necessarily better at keeping you warm.
This padded jacket comes from Lyle and Scott, and is called their wadded jacket. It comes with a padded all round design, and hood to keep you dry from that winter rain. A very clean minimal look, and navy blue in colour will make this one timeless.
The Tommy Hilfiger essential padded jacket comes in blue and black, and I've picked out the black colour which looks quite light.
lack. It has the trademark Tommy Jeans logo to the front, and a double zip fastening to the front. It looks like a jacket that will keep you warm in the winter.
If you prefer a long coat, this puffer from Uniqlo is going to do the job. Reasonably priced at you'd expect from Uniqlo, it's a long puffer jacket which is knee length. The seamless down comes in 3 colours, I've picked out navy.
The polyester jacket will withstand some of the worst of the weather, and should work well in the rain.
£179 here.
Waxed Jackets
Waxed jackets are made from waxed cotton which is water resistant, and were originally made for outdoor activities such as fishing, hunting and shooting.
They've recently became popular in modern mainstream fashion, and when you think of Waxed jackets, Barbour is the brand that is synonymous with the style.
They now have a wide range of styles available, including a collection inspired by Steve McQueen. One of the best aspects of the Barbour waxed jackets is that they are still made locally, near my neck of the woods, in South Shields.
Technical Jacket
What is a technical jacket?
It's just a way of saying a jacket which is made for everything. That means it needs to be waterproof, with the key aspect of this style being function. That doesn't mean you have to skimp on the style, with plenty of good options out there.
If you're battling the elements, a technical jacket is a good choice. That means that technically, a lot of jackets could be called technical jackets!
However usually when we talk about them, they are lighter, are made for all types of weather, and comes with a few key details.
A drawstring hood is one of those details, as well as plenty of pockets, zips and other practical niceties.
The Napapijri rainforest jacket above is the perfect technical jacket. It's the jacket which the brand is arguably most known for, and is available in a range of colours.
It comes with a drawstring hood, as well an adjustable hem, ensuring that you're protected from the rain and other elements.
Overcoats
If you're looking for a coat which is smart, an overcoat is the one you can pick.
The camel coat is one which has regained popularity over the past couple of years, with plenty of other staple colours such as navy, grey and black being options too.
If you're layering up, an overcoat or top coat as they're also known, can go over a blazer or suit jacket, giving you that extra layer of protection.
They're not as warm as a parka or others above, but when you want something more formal, this is the coat to go for.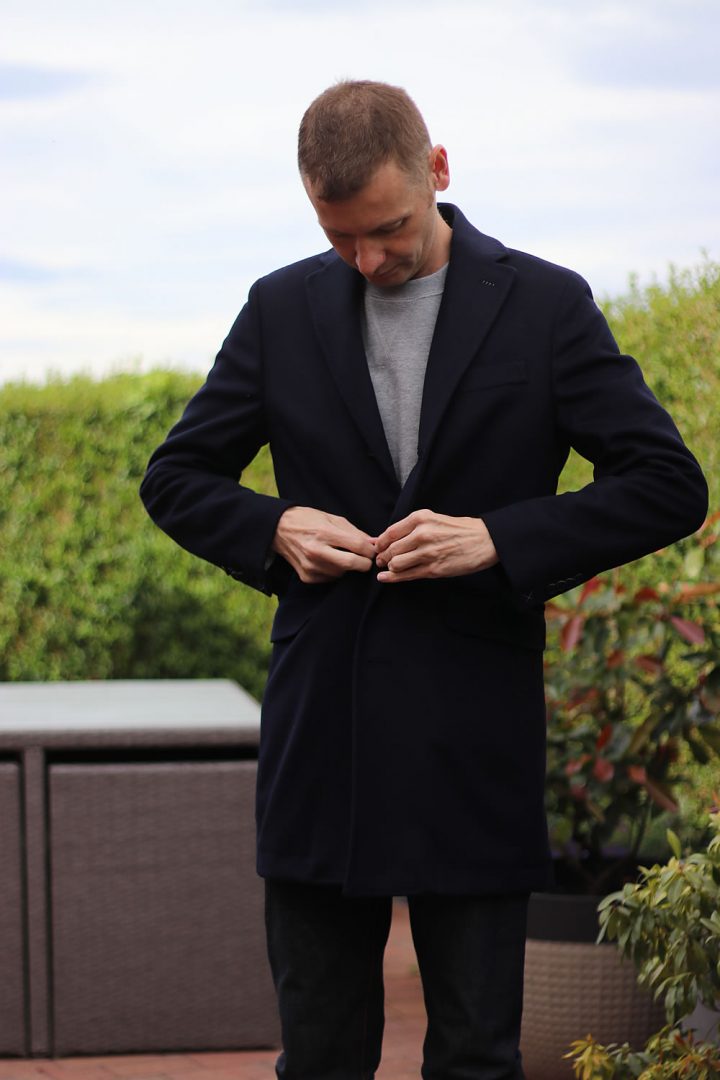 I can of course recommend my Massimo Dutti overcoat. It's navy in colour which is a staple and will be stylish forever.
You can read my thoughts on the coat here.
If you're wearing a suit on New Years Eve, this will be the perfect outer layer which you can take off once you're indoors.
Pea Coat
Like the overcoat style but want something shorter? You'll want a pea coat.
The pea coat is a similar style of an overcoat, but it's a bomber length jacket. They're usually a double breast style of jacket, a lot of the time with one row of the buttons being faux.
Perfect to wear on a night out, put this on to give your overall look a bit more formal style.
I've picked out this Ted Baker pea coat in black. It's sleek and simple, and comes in at a reasonable price for a high street designer label.
If you're going to buy one smart jacket for every day wear, this is a good choice. It has the button detail to the front, as well as the cuffed sleeves.
It would be perfect to wear on occasions when you want to look this bit smarter while keeping warm.
Shearling Sheepskin Coats
When I think of a shearling jacket, only one man springs to mind…John Motson.
Well known for wearing a shearling coat when the temperatures plummet, Motty's jacket became his trademark commentating on football in the Winter.
If you're just the average guy, like me, then this could be a hard jacket to pull off, but it's going to be one which will make you stand out, and can really look the part.
There's two roads you can go down with this one, the affordable and the expensive. The affordable shearling coats will be made from polyester, or other man made materials. The luxury shearling coats will be made from leather and sheepskin.
Your choice will come down to your budget. You should always think about the cost per wear. If it's a jacket you'll wear for years, it's worth an investment. If it's a trend choice, it won't be.
Expensive options run into the hundreds, and even thousands, depending on the brand and style.
Trench Coat
A trench coat is usually a long coat not associated with a full on Winter coat. It's a coat which has a lot of history, and is usually seen as a smart style of jacket, which could be considered for wearing with smarter clothing.
The traditional trademarks of this jacket is a mid to knee length, double breasted jacket with a fold down collar, and accompanied by a belt. It's most important feature is that it's water resistant, which is one of it's core design features.
The most famous of all trench coats is the Burberry, and it's their signature piece. If you're looking to make an investment, this is the one to go for.
You can get the Chelsea Heritage coat for £1,490 at Burberry here.
If you don't have serious coin to drop on a Burberry original, there's plenty of high street options. That includes this one above, from Zara.
It's a similar style, in the camel beige colour but this one will only set you back £80.
The technical jacket is water repellent, so will keep you dry as well as on trend.
The Canada Goose Is Hands Down The Best – Buy One!
I would love to advise you to go out and spend over £1000 on a Canada Goose jacket, but things are not that simple.
In my opinion if you need a coat for a harsh winter there is simply no better than a Canada Goose.
I got a Chilliwack Parka several years ago, and it was a godsend for 2 bad winters we had. It does come with a few problems in the UK though.
For example, last winter was so mild I never actually wore it!
They are amazing for harsh weather, and if it's freezing cold, if there's wind chill, or if it's snowing, then wearing one will keep you toasty.
But if it's a mild winter and not really sub-zero temperatures, you'll literally be sweating in one. They are not really designed for mildly-cold winters.
There's the price too, at around £800 it is rather expensive.
Final Word
Whatever style of jacket you go for make sure you buy a good one which will last you for the entire winter, and hopefully many more to come.
Go for a timeless colour, I recommend something dark such as dark blues, greys and black, these colours never go out of style.
If you can afford it I would advise getting two Winter jackets.
First, a coat for the really cold winter mornings going to work, and every day wear. Second, a smart jacket for more formal occasions and times where you need to look a bit more sharp.
My picks for this winter would be an overcoat jacket and a parka coat.
Layering up is always a good idea, so remember to have a read of my men's Autumn/Winter knitwear guide and get yourself a warm, smart jumper or cardigan to pair with your Winter coat of choice.